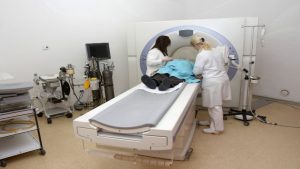 What does a radiologist do?
A radiologist is a type of medical doctor whose specialization involve the diagnosis and treatment of diseases or any injuries by using imaging technology. These include x-rays, magnetic resonance imaging exams (MRIs), positron emission tomography (PET) scans, fusion imaging, nuclear medicine and ultrasound tests, among others, says Radiology Info.
What to expect from your radiologist?
You will probably be there on the request of your general practitioner or family doctor. Some radiology doctors specialize in breast imaging such as mammography while others focus on pediatric imaging for children, cardiac imaging or musculoskeletal imaging tests. Depending on your doctor's recommendations and your possible condition, you might need to find a specific type of radiology specialist.
What are the two kinds of radiologists?
A diagnostic radiologist can help your doctor by performing and interpreting a range of medical images. These images will help them determine whatever conditions or illnesses you might have. An interventional radiology specialist, on the other hand, has the training and skill to both diagnose and treat your disease with the use of imaging equipment. Interventional radiology treatments are often regarded as a slightly less invasive alternative to surgery. That means patients are exposed to less risks so they provide you with a much better option in case you don't want to go for a full-blown surgery and the risks that come along with the procedure.
What are radiation oncologists?
These are doctors who rely on the use of radiation therapy to provide treatment for cancer patients. They are not clinical radiologists, though, but they are one of the three types of radiology specialists you might encounter—along with those who focus on diagnostic and interventional radiology.
How to find one?
Look for someone experienced and competent. Check the doctor's credentials along with your comfort level with the doctor before you choose one.